Measures and information to prevent the spread of coronavirus
Due to very high infection rates, the Austrian government has decided to restrict public life with a lockdown.
This is intended to reduce the number of new cases. The measures and restrictions are temporary and also affect tourism within Carinthia. The aim is to guarantee that Carinthia is a safe holiday destination again and enable winter tourism.
You can find more information for your holiday in Carinthia at www.kaernten.at.
Hotels open for professional and educational purposes: Here you will find a list of hotels and accommodation open for professional travellers and for trainees. Booking for tourist reasons (holidays) is not possible.
An overview of the lockdown measures (as of: 08.02.2021)
A curfew from 8 pm to 6 am is in place.
Indoor and outdoor events are not permitted.
Sports and leisure facilities (gyms, spas, opera houses, cinemas etc.) are closed.
Museums, libraries, zoos are open.
Outdoorsport-facilities (for example cross country skiing trails) are open under strict conditions.
Cable Cars are open since 24th of December 2020 for leisure-purposes.
Hotels and other accommodations are closed.
Dining in restaurants is not permitted. Delivery and collection is allowed.
Shops (clothes stores, electronics shops, DIY stores etc.) are open.
Supermarkets, pharmacies, tobacconists, drugstores, petrol stations, post offices & garages are open (max. opening hours from 6 am to 7 pm). Longer opening hours for pharmacies & petrol stations.
Personal services (hairdressers, nail studios, masseurs etc.) are allowed. For services close to the body (hairdresser, pedicure, masseur, etc.), a negative PCR or antigen test must be presented that is not older than 48 hours. Self-tests as you can buy them in pharmacies (spit tests, nose tests etc.) are not valid here. FFP2 masks are also mandatory here.
Private gatherings are allowed, but under strict conditions.
In public spaces, a distance of two metres between persons is prescribed.
Please find more information on Holiday in Austria, current entry regulations and protective measures here.
The most important questions about the lockdown
What is an FFP2 mask? Where is the wearing of these masks mandatory?
FFP stands for Filtering Face Piece. So-called FFP2 masks are tighter and protect the wearer of the mask from particles, droplets & aerosols. The prerequisite is that the mask fits correctly, of course. A tight-fitting FFP mask (see picture) therefore offers protection for others and oneself.
You will find detailed information on the mandatory use of masks in Carinthia and Austria further down on this page.
Is a holiday in Carinthia currently possible?
No. It is not possible to book a holiday within the lockdown phase as most hotels and accommodations are closed. Overnight stays are only permitted for training and professional purposes. Health resort stays are also permitted. A list of open hotels for professional or educational purposes can be found here.
I own a holiday home/hut/apartment in Carnithia. Can i currently use it?
The borders to Austria remain open, so you can enter and use your holiday home. The imposed measures, such as the curfew, will however also apply to you.
Are there entry restrinctions to Carinthia when travelling from my home country?
You will find an overview of safe countries that you may enter from on this website. Upon arrival you must however be able to prove that you have spent the last 10 days in one of these safe countries. Electronic registration before entry is mandatory.
You can find more information about risk areas here.
Electronic registration on entry: what do I have to bear in mind?
Since 15.01.2021 (00:00), electronic registration (Pre-Travel Clearance – PTC) is mandatory before entering Austria. You can find the electronic PTC registration form here:
You can download the filled form or receive it by e-mail. In the event of an inspection, this form must be presented to the authorities in printed or electronic version.
When is a winter holiday in Carinthia likely to be possible again?
The imposed measures are helping to make Carinthia a safe winter holiday destination for you again. Should infection rates decrease, then safe winter holidays would be possible in Carinthia progressively and under certain conditions from the beginning of April at the earliest.
Where can I get a COVID-19 test in Carinthia?
Throughout Austria, about 400 pharmacies have been offering free coronavirus tests since 08.02.2021. Such tests are necessary if, for example, you want to use a body-related service such as a haircut, pedicure or massage.
A list of pharmacies & further information on test locations in Carinthia can be found here (German).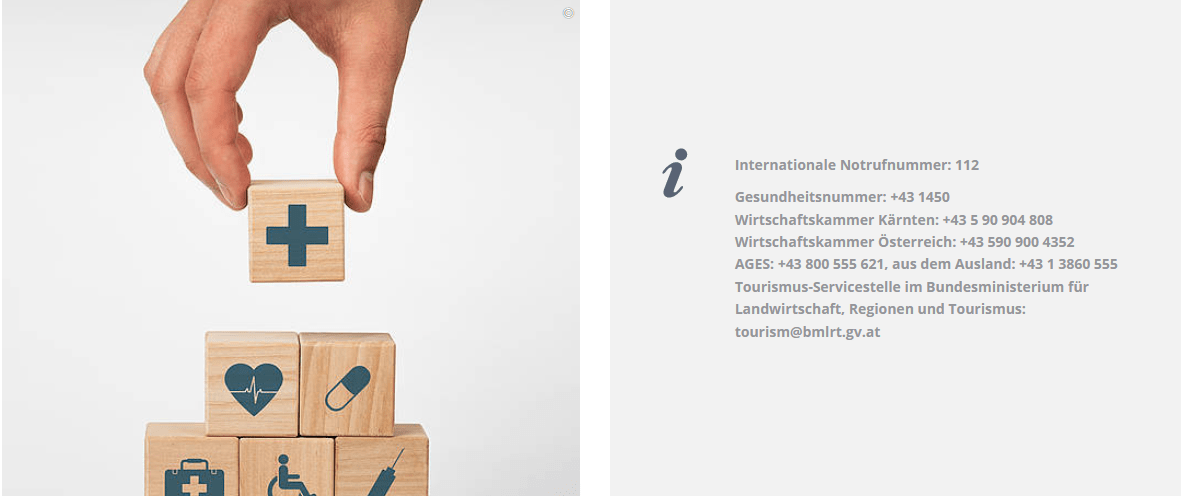 This content was created by the Austrian National Tourist Office: