Klagenfurt is a real bonanza from a culinary viewpoint. Small enough for the distances to be short. Big enough to contain a varied selection of really good inns, bistros and restaurants. And close enough to the border to skilfully incorporate the influences of Mediterranean cuisine. So here are our favourite addresses for really good food in Klagenfurt. Personally tested and found to be worth recommending.
1. Gasthaus im Landhaushof
In Klagenfurt there are a handful of truly traditional inns, and the Landhaushof is definitely one of them. Located on the ground floor of the venerable Landhaus, the restaurant is a good and reliable place for lunch and dinner, both on weekdays and on Sundays and public holidays.
The Landhaushof restaurant is probably the only place in Klagenfurt that has Tafelspitz (prime boiled beef) as a standard dish on the menu. We ourselves can never get past the wonderfully fine spinach with roast potatoes and a fried egg. Meat lovers swear by the fresh and harmoniously-seasoned beef tartare.
You can sit here in cosy seating areas under old arches and enjoy the homely and seasonal cuisine. In summer there is a large guest garden outside in the extensive courtyard of the Landhaus.
Here you can get really good food at affordable prices – and courteous waiters on top. Landhaushof 1, 9020 Klagenfurt
Landhaushof 1, 9020 Klagenfurt am Wörthersee www.gut-essen-trinken.at/der-landhaushof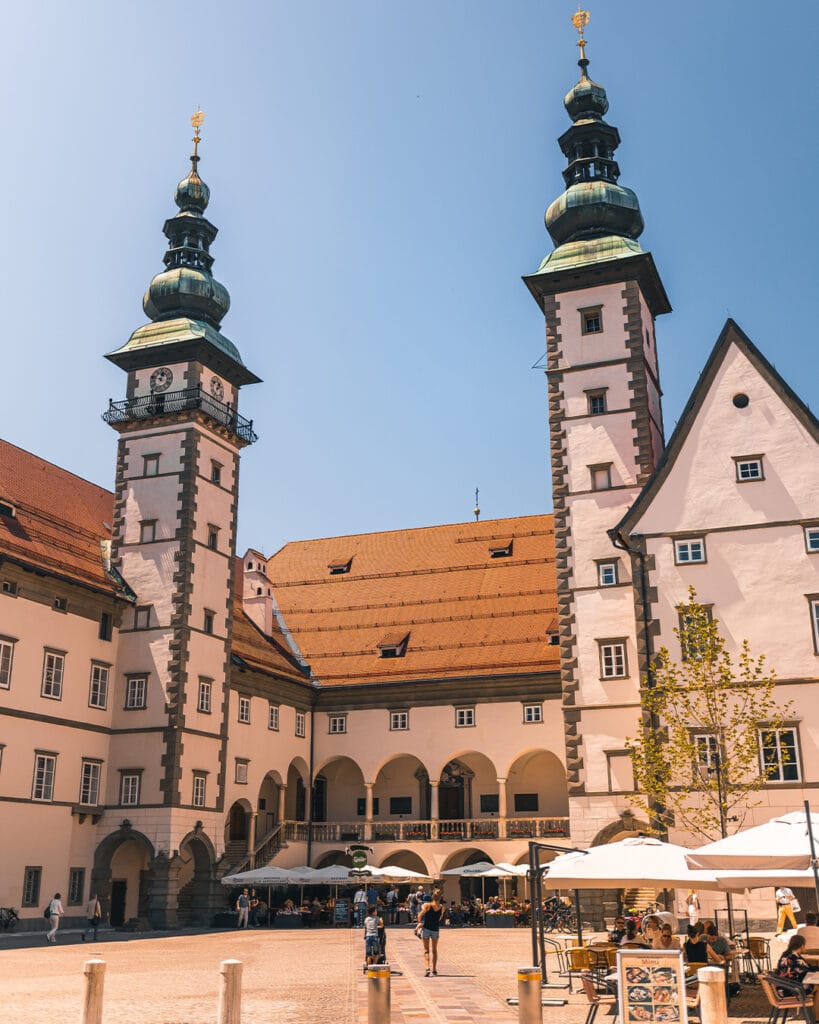 2. La Bottega
This is currently the place for Klagenfurt's best Italian-style pizza. A light, thin base and just the right amount of tasty toppings. We think this is just how pizza ought to taste.
Although pizza is not the only thing the people who run the Bottega do really well. The fish and seafood dishes are always fresh, the cuisine is seasonal Italian, the atmosphere is pleasant and the service is friendly and fast.
Naturally word has got around, and this restaurant in the Waidmannsdorf district is always well attended. So to be certain, it is better to book in advance.
Siebenhügelstraße 3, 9020 Klagenfurt am Wörthersee www.labottegakl.com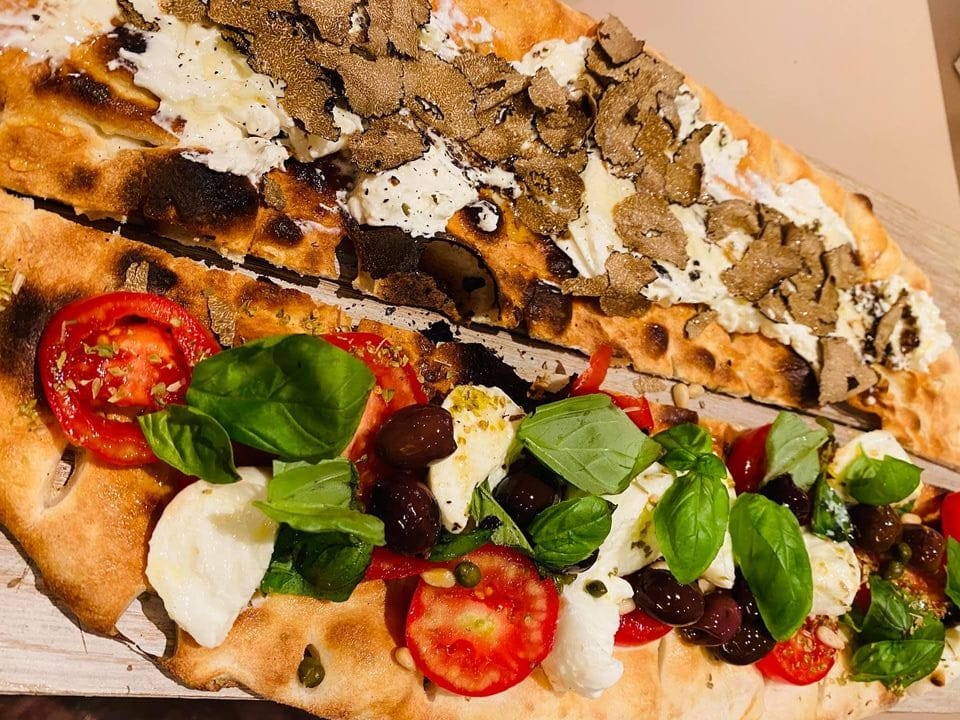 3. Magdas Lokal
Without doubt the most colourful restaurant in Klagenfurt. The people working here come from ten countries and speak seven languages. So not only are the encounters correspondingly varied, but also the cuisine on offer.
As well as two lunch menus which change daily – mostly classic Austrian or Italian dishes – Magdas also has many oriental specialities on the menu. Nowhere else in Klagenfurt can you get such a variety of mezze, such well-seasoned lentil dhal or such tasty ramen.
Magdas Lokal is a social business project, run by Caritas. And you notice it too: the people working here mainly have a migration background, the restaurant largely supports regional businesses when buying goods, and it is also a popular meeting place for the creative and cultural scene. So it is only logical that at Magdas there is also plenty of space, playing options and tolerance for children.
Stauderplatz 1, 9020 Klagenfurt am Wörthersee www.magdas-lokal.at
4. Osteria dal Conte
If we didn't know better, we would imagine we were in the heart of Italy. In summer in particular, with its charming little guest garden in the middle of the little alleys to the south of Alter Platz, its rattan chairs and little wooden tables, the Osteria dal Conte radiates a really Italian buzz.
Of course, this is also due to the fine selection of Italian dishes. Typical antipasti, wonderfully creative salads and fish specialities can be found on the menu.
But the "Osteria", as the people of Klagenfurt call it, is primarily a paradise for lovers of original Italian pasta dishes. One speciality of the house that we expressly recommend you try is the "Penne Biro", with a harmonious mascarpone and tomato sauce and prosciutto crudo. You can only get it here.
Tabakgasse 4, 9020 Klagenfurt am Wörthersee www.osteria-dal-conte.at
5. Bierhaus zum Augustin
A traditional beer house just the way it ought to be: a rustic atmosphere, outstanding food, service staff who are right on the ball. And beer of course! Different draught beers are freshly tapped, including the "Augustin house beer", which is specially brewed for the beer house.
In terms of food, the Augustin stands for hearty plain fare. A cool lager tastes twice as good when it accompanies fried chicken salad, alpine beef goulash, fried dumplings or veal sausages. The menus of the day also always include attractive options for vegetarians.
The Augustin is a place where people meet. No matter whether it is for lunch or for a beer or two in the evening. Or in the cosy courtyard guest garden in summer, or round one of the robust wooden tables in winter.
Pfarrhofgasse 2, 9020 Klagenfurt am Wörthersee www.gut-essen-trinken.at/das-augustin
6. Dolce Vita
If you enjoy meals of gourmet standard, you will love this restaurant: the Dolce Vita is the gourmet address in Klagenfurt, awarded three toques in the current Gault Millau 2020.
In his small but fine bistretto, mastermind Stephan Vadnjal conjures up wonderfully light Mediterranean delights on the plates. The culinary focus is on seafood and fish dishes, with value attached to the highest product quality. For example, only wild-caught sea fish is used.
The smart, clean interior enhances this claim, as do the hand-selected wine list and the enthusiastic service. Without question, a gastronomic highlight in the Carinthian provincial capital.
Heuplatz 2, 9020 Klagenfurt www.dolce-vita.at
7. Nana's Kitchen
When hunger strikes during a day's shopping and you feel like something Asian: Nana's Kitchen on 8.-Mai-Straße! This shop that specialises in lunchtime business is the most authentic, and for many people the best, Thai in the city.
It is hard to just walk past because of the deliciously exotic and tangy smells emanating from the entrance. Everything is freshly cooked right behind the counter, from spring rolls to pad thai. If you want, you can watch the chopping and sizzling from the street through the large window.
The furnishings are pleasantly modest by Thai standards and adapted to the purpose of providing fast lunches. Nana and her employees are ultra-friendly. A great spot for all lovers of original Thai cuisine.
8.-Mai-Straße 6, 9020 Klagenfurt am Wörthersee
8. 151er Bistro Bar
An institution of the gourmet scene. A perfect place for a romantic dinner date. And a really cool place with a classy living-room atmosphere inside and a maritime-style terrace as well as a magical, overgrown garden. The 151er may well be somewhat off the beaten track, on the turn-off to the road along the southern shore of Lake Wörthersee, but it has always been the place to be.
This has to do with the unusual feel to the place, which swings somewhere between kitschy and stylish. With the cuisine, which offers a blend of traditional, Mediterranean and Asian fusion cooking par excellence. And with the characters bustling about both behind and in front of the counter. If you don't know the 151er yet, we think you're missing out on a chunk of Klagenfurt lifestyle.
Höhenweg 151, 9020 Klagenfurt am Wörthersee www.151.at
9. 7.Himmel
A pleasant, intimate restaurant, somewhat hidden on Osterwitzgasse, where you can let yourself be really spoiled in a relaxed atmosphere: it sounds like a real well-kept secret, doesn't it?
And 7. Himmel on Osterwitzgasse really is one. The menu contains selected, freshly prepared dishes which reveal a lot about the chef's great passion. They mainly serve Mediterranean food, fish, seafood and pasta.
The name says it all: this Klagenfurt restaurant is a place truly filled with well-being. That has a lot to do with the landlord Charly: you can simply tell that he likes his guests. And he is a real wine-lover, as the exquisite wine list proves.
Osterwitzgasse 12, 9020 Klagenfurt am Wörthersee
10. Restaurant Maria Loretto
We really don't want to know how many marriage proposals have been made here between the first and second courses. This restaurant stands on what is probably the best place to watch the sunset in Klagenfurt. And it is right on the lake, equipped with a wonderful sitting terrace edged with palms, and the even more romantic restaurant balcony with a wonderful view of Lake Wörthersee.
Sitting here at sunset enjoying exquisite dishes from the Alps-Adriatic cuisine, then letting your gaze wander over the shimmering water as you enjoy a digestif … That is real quality of life – and to be honest you can't beat it!
Lorettoweg 54, 9020 Klagenfurt am Wörthersee www.restaurant-maria-loretto.at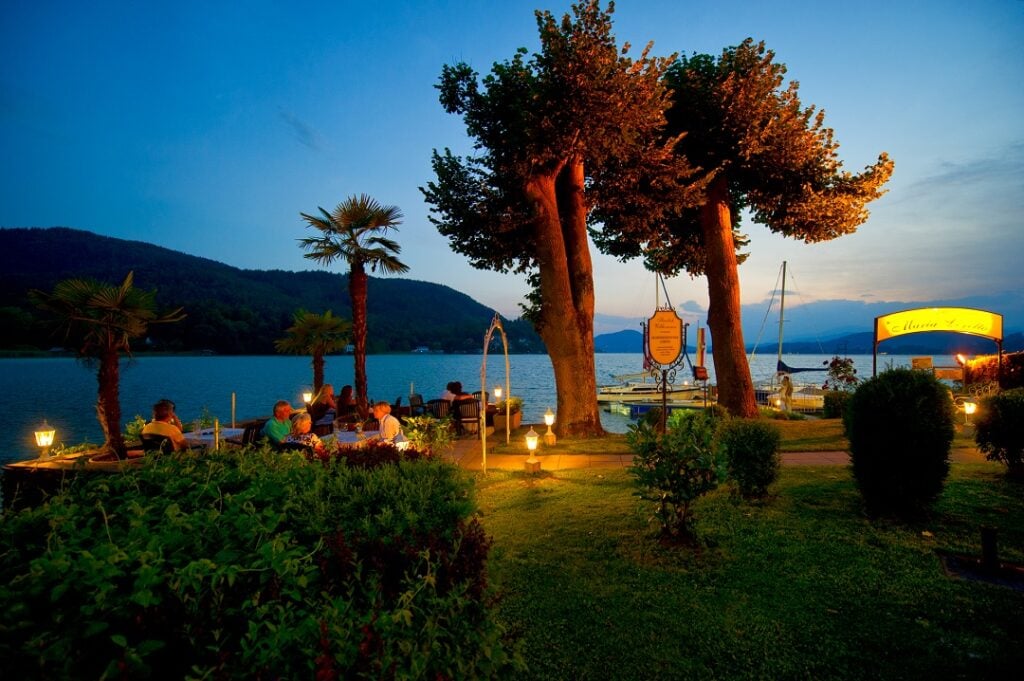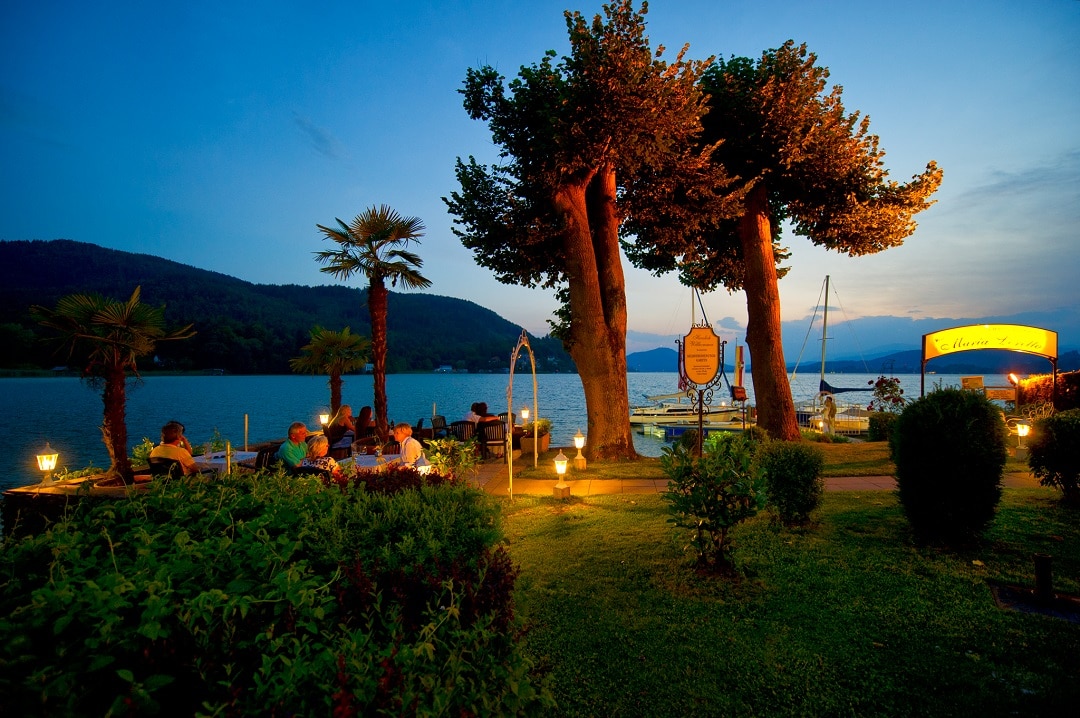 Klagenfurt may well not be large, but it is packed full of good restaurants and inns. And just like everywhere else, you only need to know where to go. Depending on your taste and your mood, in the Carinthian provincial capital you can find excellent Italians, solid inns with home-style cooking, restaurants that are well worth recommending for Asian or exotic tastes – and one or two other exciting restaurant concepts.