Do you know that special, urgent nagging sensation between your palate and your stomach? Sugar cravings! The feeling that you have to get some sugar (or something sugar-like) into your bloodstream, and pronto! To be honest: it befalls me personally every day, always between 3 o'clock and 4 o'clock in the afternoon.
Luckily I live in Klagenfurt. It's a city where the sweet life is possible. Even more than that. A walk round the city has many addresses and cafés where you can bump into cream-filled gateaux or chocolate cake, or stumble upon rum-filled petits fours and cream-filled pastries.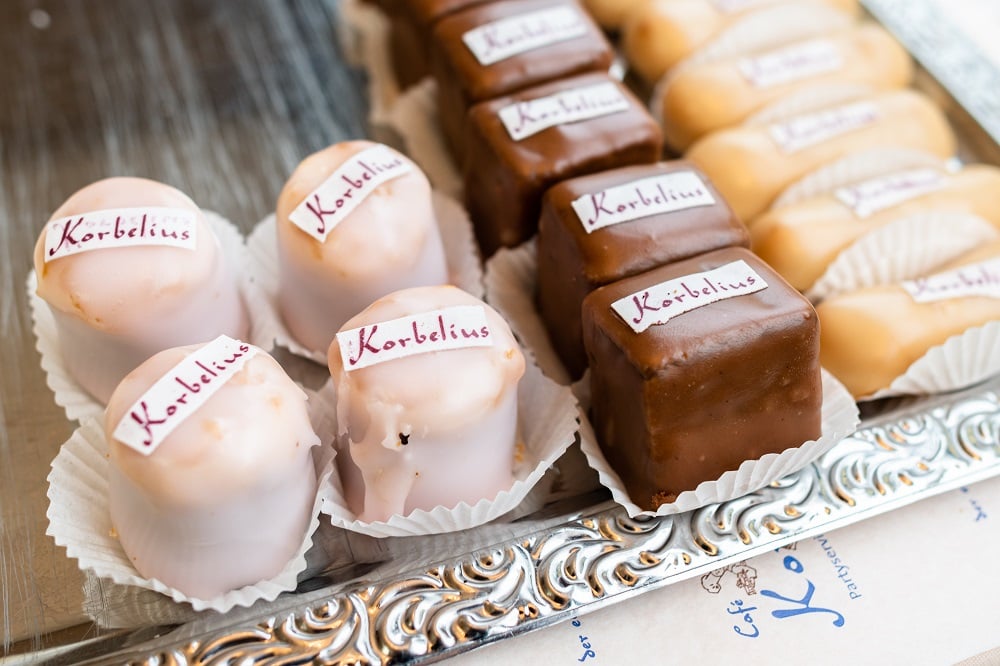 There are a handful of traditional confectioners who put their whole heart into sweetening their guests' lives with cakes and desserts, no matter whether they are opulent gateau creations or wonderful cakes baked to Grandma's recipe. No matter whether you enjoy them at a café table in the confectioner's shop, or take them home nicely wrapped up in a cardboard box.
Klagenfurt is sweet! So here are my personal favourites when it comes to "coffee and cake".
Konditorei Cafe Fahrnberger
This is the traditional Klagenfurt confectioner's par excellence, with three locations in the city area. The one that covers the largest areas is the parent store on St. Veiter Straße, then there is also a cosy but tiny branch on Benediktinerplatz. And my personal favourite Fahrnberger is on Luegerstraße near the Steinerne Brücke bridge.
A bright, cosy place with sinfully good home-made pastries and proper coffee. The service is always friendly and fast, and the magazine selection is well-curated.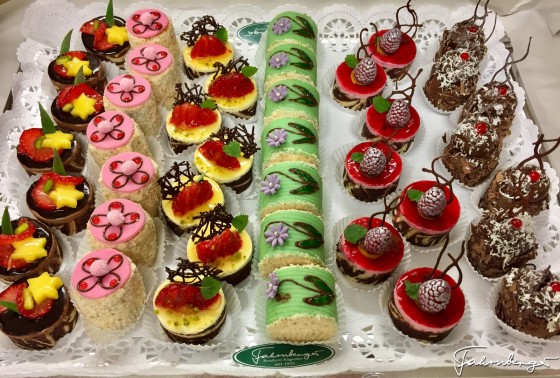 You can meet up at Café Fahrnberger for a chat over a cappuccino and damson cake. Or a good read of the newspaper over a wonderful cup of Darjeeling and a cake flavoured with rum. And for me the homemade ice cream is the best in the whole of Klagenfurt. This is where I genuinely became addicted to affogato al caffè.
At the weekend, the Fahrnberger is heavily frequented by people stocking up on gateaux and cakes for their afternoon coffee at home. And if you happen to need a gateau as a gift for a special occasion: the Fahrnberger makes it. The children's birthday cakes are especially colourful and creative!
Café Konditorei Fahrnberger St. Veiter Straße 144, 9020 Klagenfurt am Wörthersee Benediktinierplatz, 9020 Klagenfurt am Wörthersee Luegerstraße 4, 9020 Klagenfurt am Wörthersee www.fahrnberger.com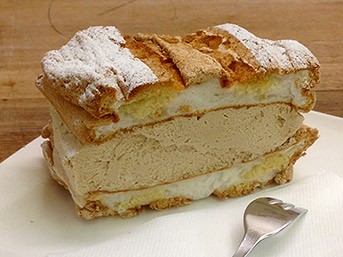 Konditorei Korbelius
There is nothing, nothing at all, like an original Korbelius "Schaumrolle". This Danish pastry filled with sweetened egg foam has really found its master (confectioner) here. My father-in-law gave me the tip, as he is a passionate connoisseur as far as the specialities of the individual cafés are concerned. He would always go to Korbelius on Karfreitstraße expressly for their Schaumrollen.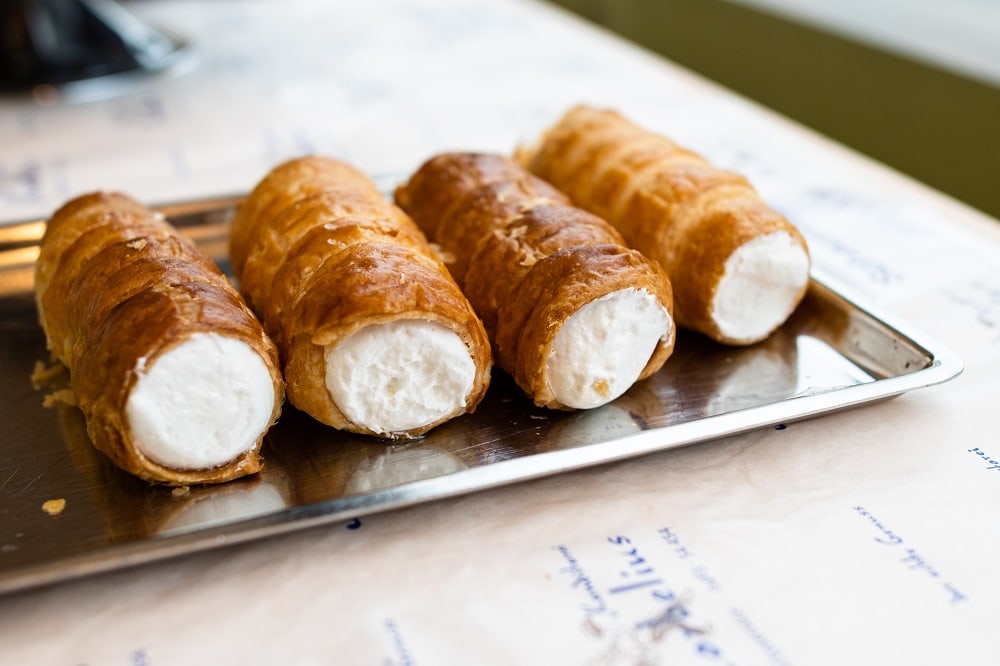 But I soon expanded my repertoire of sweet treats, and I have to say that the home-made wild strawberry gateau, apricot cake or chestnut slices are in no way inferior to the legendary Schaumrolle. And for everyone who is committed to plant-based eating, in summer Korbelius even has vegan ice cream!
The atmosphere at Korbelius is something unique. The patina of several decades fills the guest area, so musical background noise is consistently avoided. That is unusual nowadays, but I like it. It means you can concentrate fully on your conversation with the person opposite you. Or on the sweet dream on your plate in the form of a slice of gateau.
Konditorei Korbelius Karfreitstraße 9, 9020 Klagenfurt am Wörthersee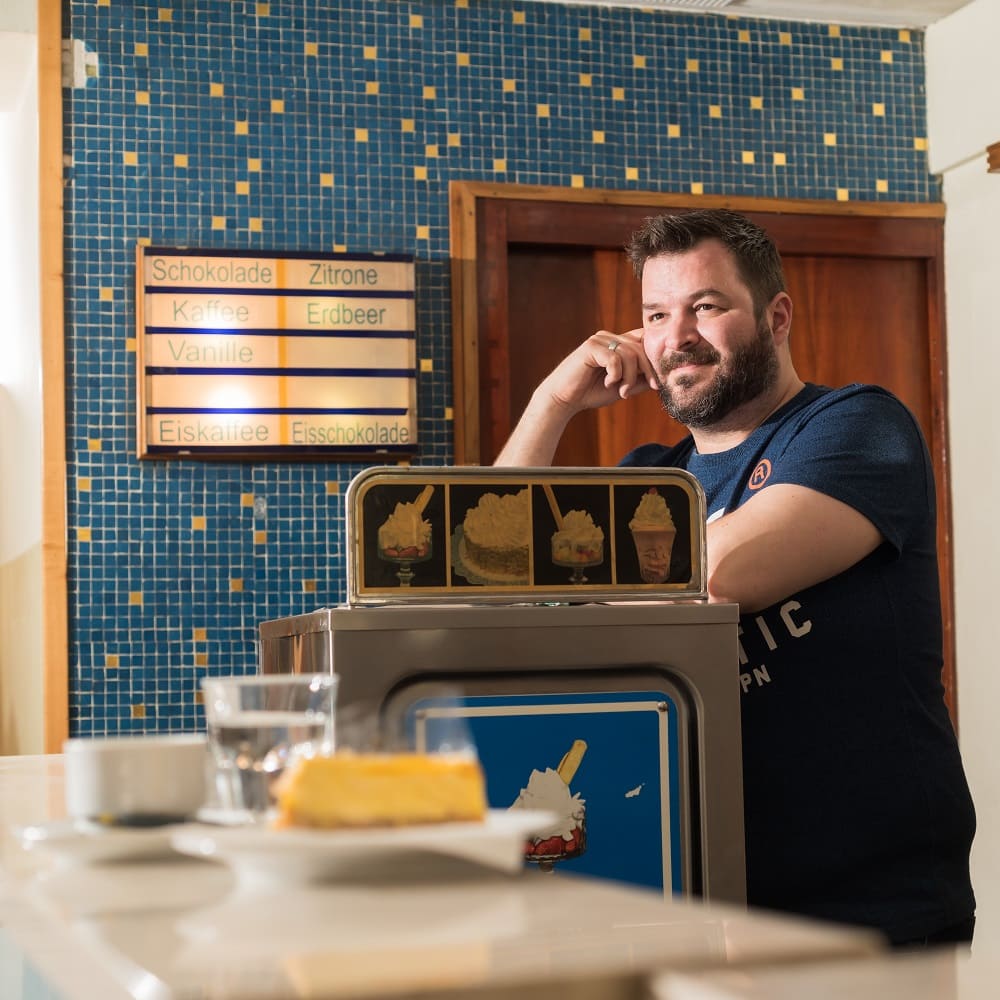 Konditorei Hutter
I have no idea why it is, but Konditorei Hutter in the middle of Alter Platz has become somewhat of a hideaway for everyone needing a break from shopping. The café extends generously backwards into the building, past the well-filled dessert display case at the entrance. Which means there is nearly always a free table at Hutter.
And Hutter is always a good choice if you fancy homemade gateaux, cakes and slices. Or hand-made chocolates. The "Original Klagenfurter Lindwurmkugeln" that are only available here are the perfect little idea for birthday children who love chocolate.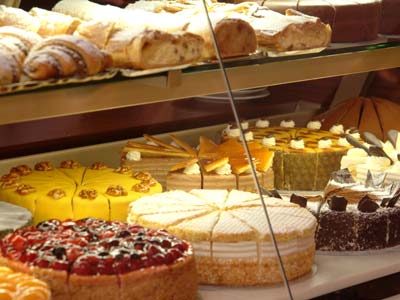 I also absolutely want to mention the appetising selection of freshly filled rolls. It is often the case after coffee and cake that you simply have to have a prosecco with some savoury nibbles. Because it is easy to chat longer than you planned among these cosy red settees and the speedy service.
Konditorei Hutter Alter Platz 11, 9020 Klagenfurt am Wörthersee www.konditorei-hutter.at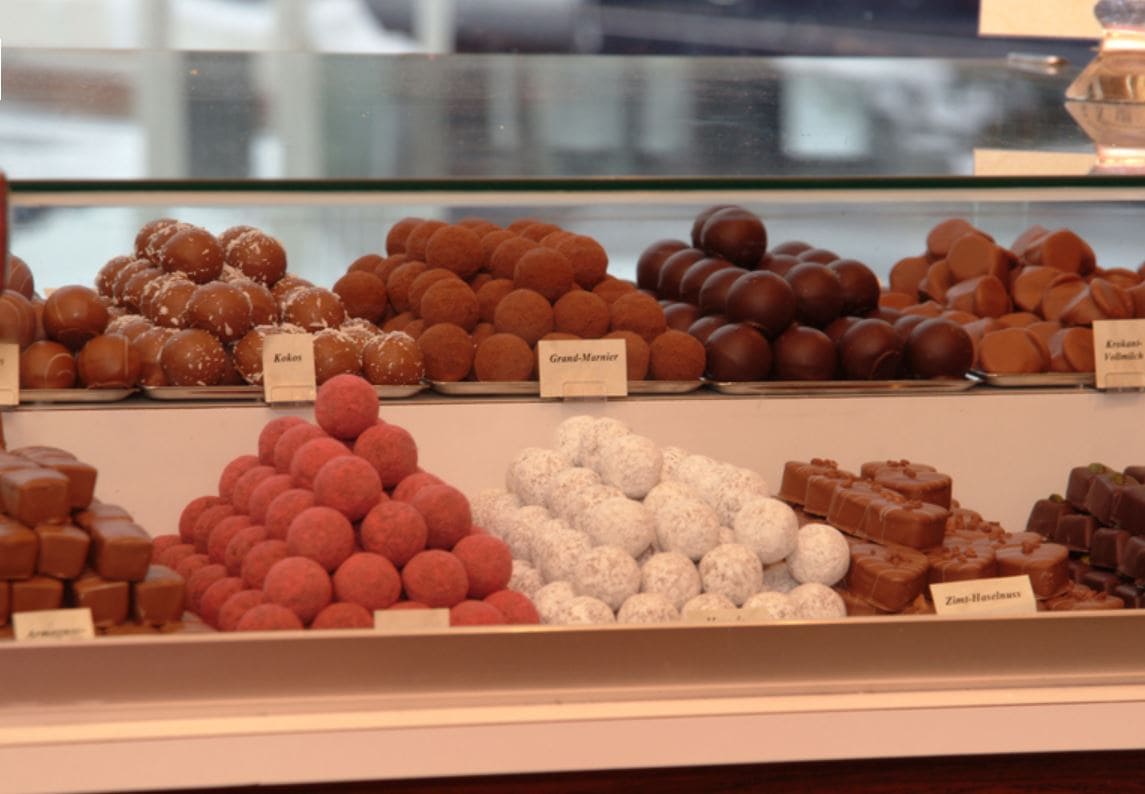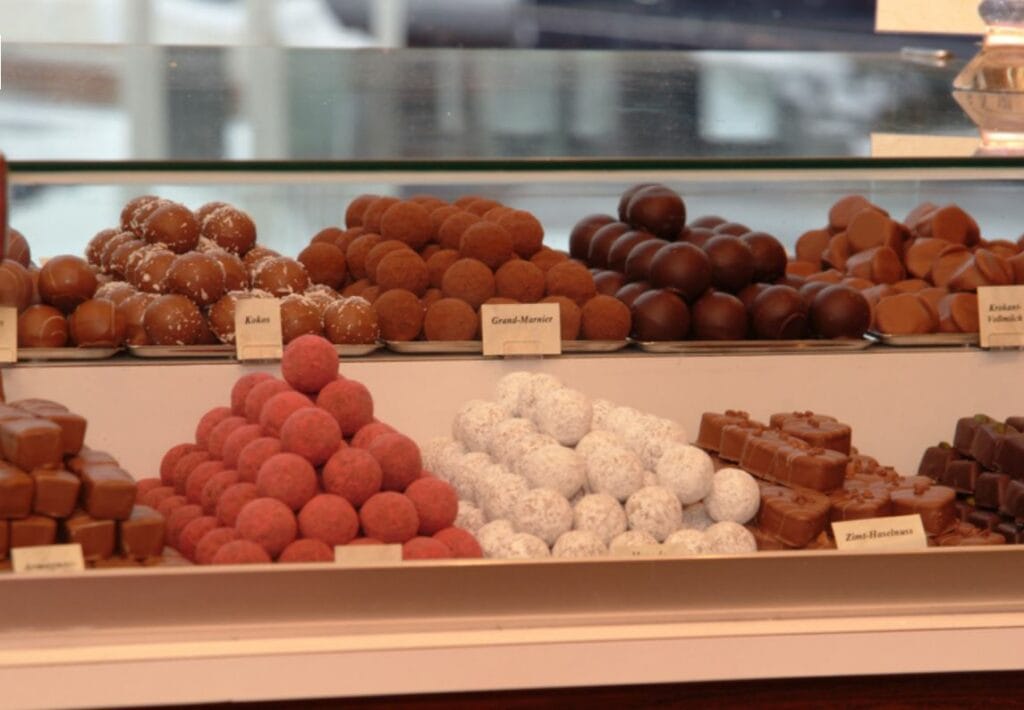 Confectionery products at the Benediktinermarkt
If you are looking for succulent cakes and sweet cream fillings, you can stumble from one good address to another among the market restaurants at the Benediktinermarkt. My personal tour for sweet stuff looks like this, for instance:
Firstly a short detour to the Fahrnberger at the Benediktinermarkt that has already been mentioned, with a particular recommendation: the "Kardinalschnitte". You seldom come across anything as appetising and sumptuous in this earthly life!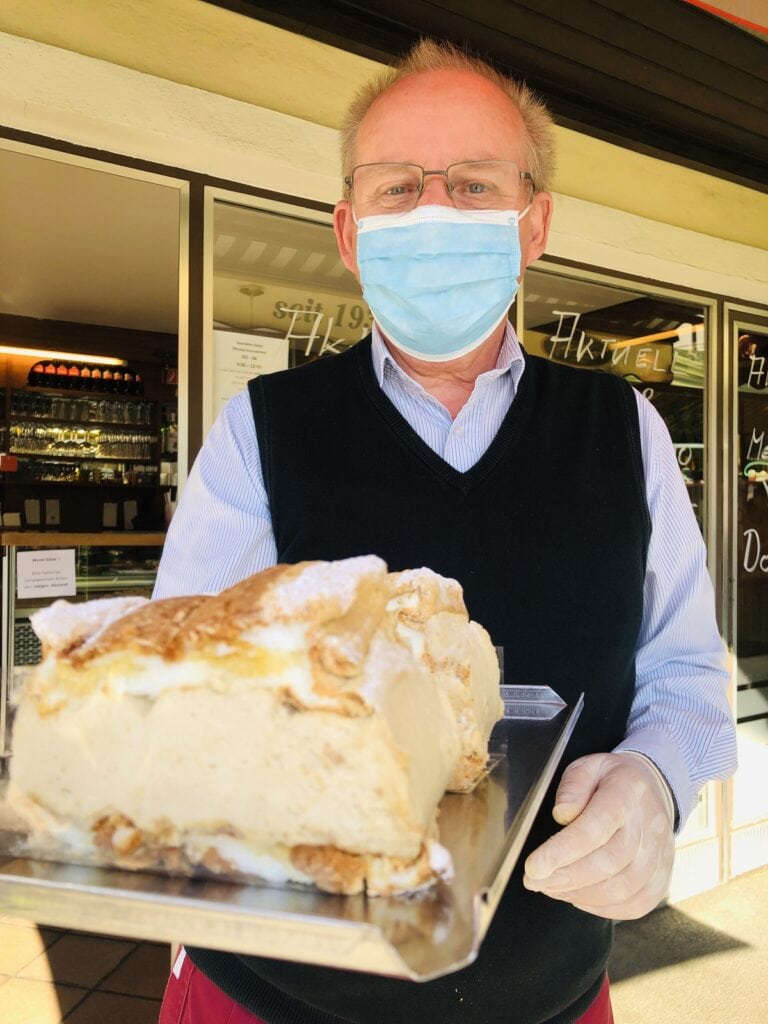 Then a few steps further to "Sylvie's Kostbarkeiten". A delightful place, where the bistro tables wear crocheted tablecloths and the chairs wear white covers. Sylvie makes all the confectionery herself, and my favourite is definitely the eggnog slices. Have a coffee with one, watch the people on the market square for a while – super!
You will already have had enough calories, but finally you need something to eat at home too. Here is my very important tip: sample the display case at the Torteneck. Confectioner Daniela Pock makes the finest sweet things working in a team with her mother and aunt. And the wonderful "Benediktinertorte" with nuts, chocolate and cherries can only be found at the Torteneck.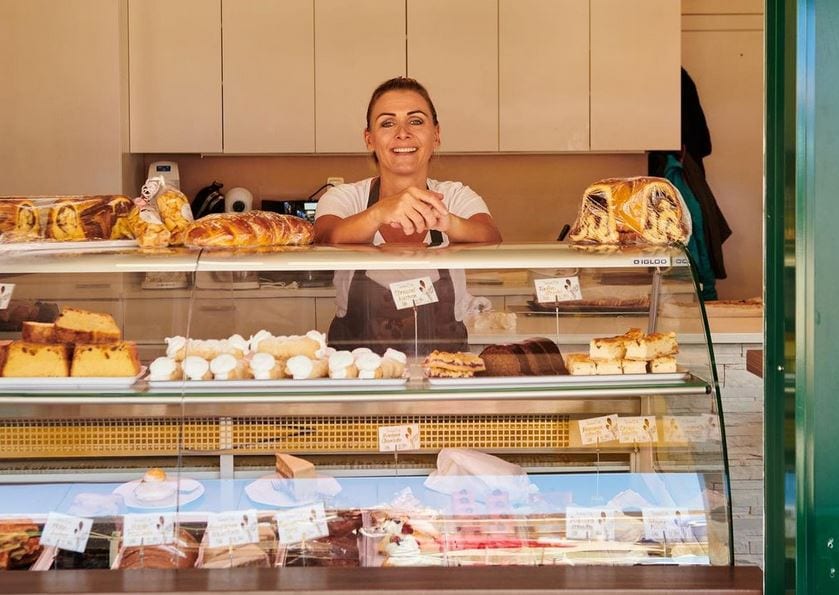 By the way, the market days at the Benediktinermarkt (Thursday and Saturday mornings) are always a good occasion for finding undreamt-of treasures. What the women stallholders and farmers produce there almost by the way is incredible. Cakes, strudels and gateaux like Grandma used to make! I recommend walking around and sampling them, because everyone is sure to find their favourite cake or pastry there.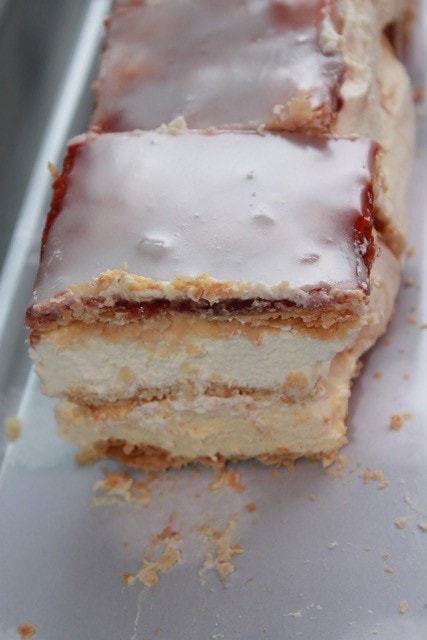 Kosta Konditorei
The Konditorei Kosta is not a café/confectioners, but thanks to its market stall it is always there as a place where people can meet. Filled coconut cookies or meringue cups from Kosta remain one of the most formative memories even for Klagenfurt children who have now grown up.
Wherever there was a Kosta stall you could rely on there being all sorts of sweet goodies: at the autumn fair, outside the cemetery on All Saints' Day, at the Christmas market in Advent, at every major event. At their shop on St. Georgener Straße, which was sweet in the literal sense, like a place in a brightly coloured Disney film.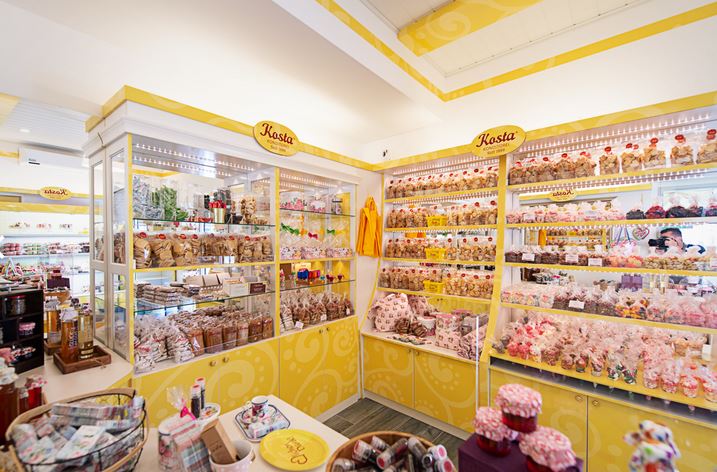 By the way, they not only sell sugary products, but also bread freshly baked by the boss's own hands. For me the name Kosta is associated with a permanent love of homemade coconut fingers.
So watch out: once you have tasted them, you will never forget them.
Konditorei Kosta St. Georgener Straße 14, 9020 Klagenfurt am Wörthersee www.kosta.at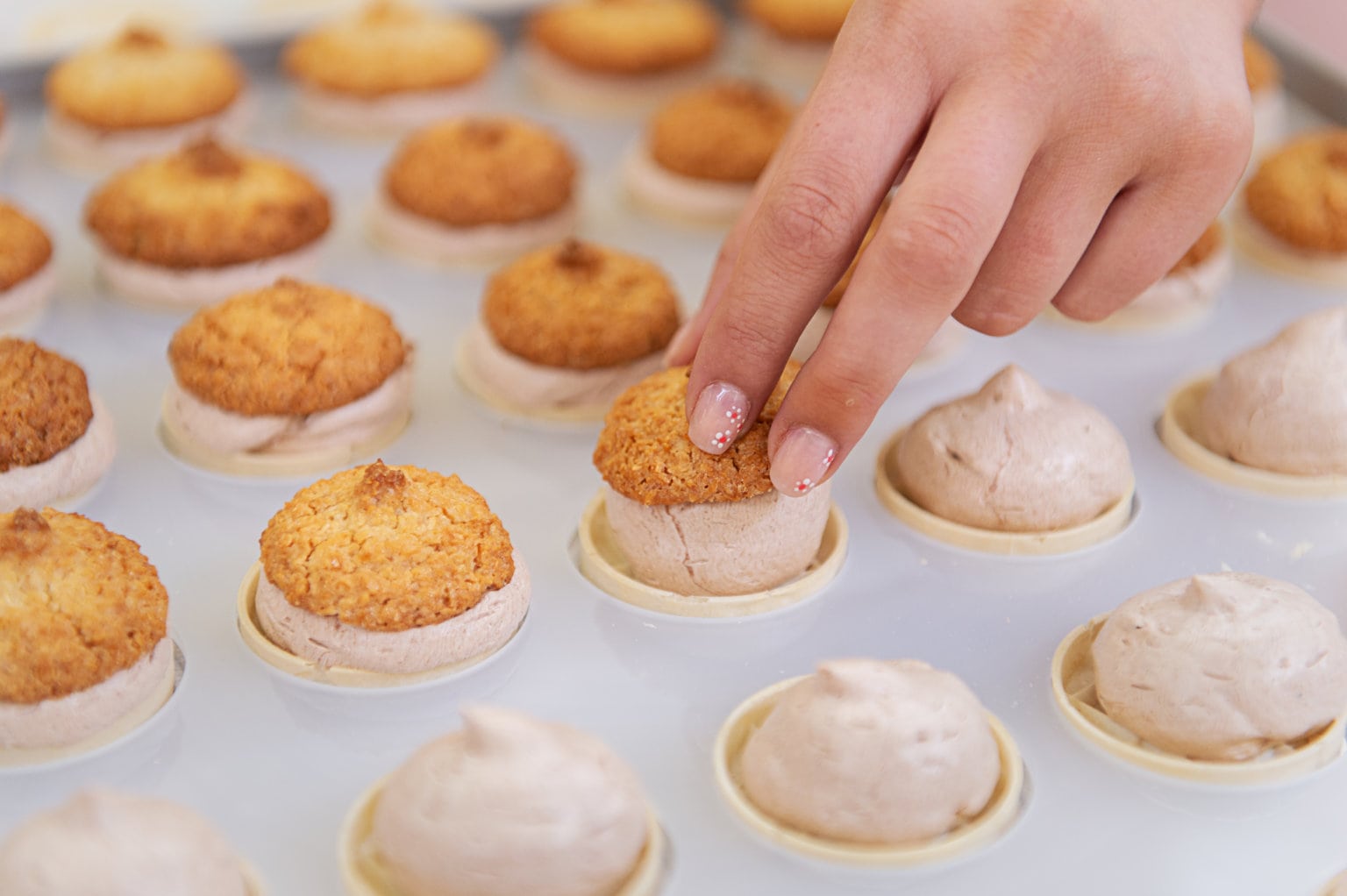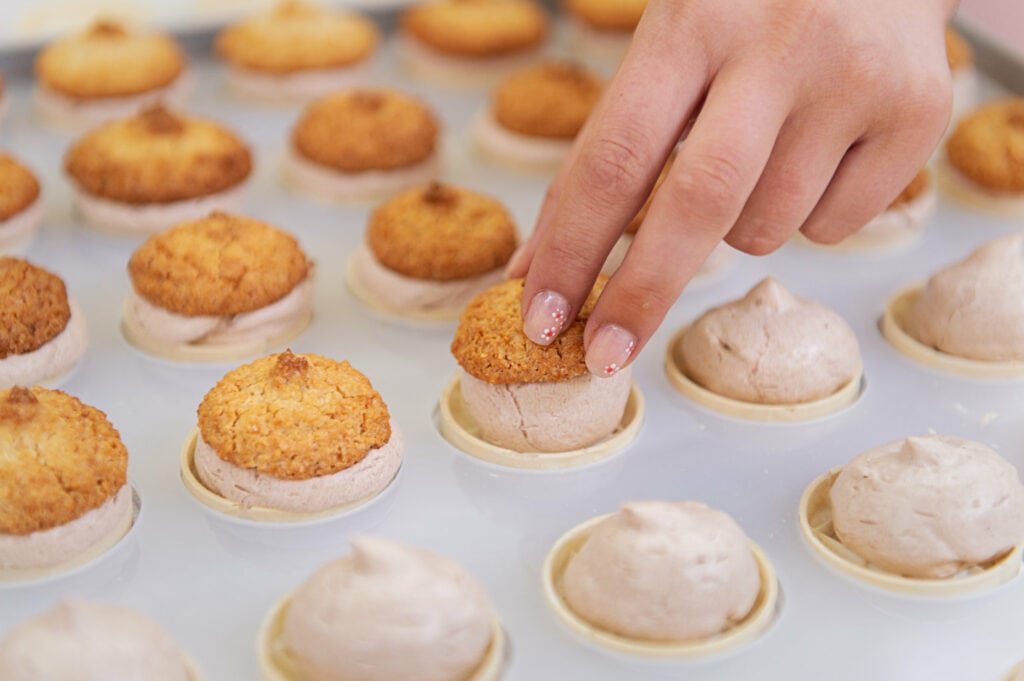 Coffee and cake in Klagenfurt
Good news for lovers of handmade pastries: Klagenfurt is truly an ideal place for them. The master confectioners work with genuine raw materials, and every address offers its own house specialities.
And maybe a special tip for younger people with a sweet tooth: the homemade apple pies, cheesecakes and brownies made by Karin, who owns the Café Como on Bahnhofstraße, is self-taught and highly talented. They are almost like the trendy pastries that are familiar from McDonald's. Only not manufactured industrially, but homemade with much love. And some of them come in vegan versions too!
Café COMO Coffee and More Bahnhofstraße 15, 9020 Klagenfurt am Wörthersee www.como1.at